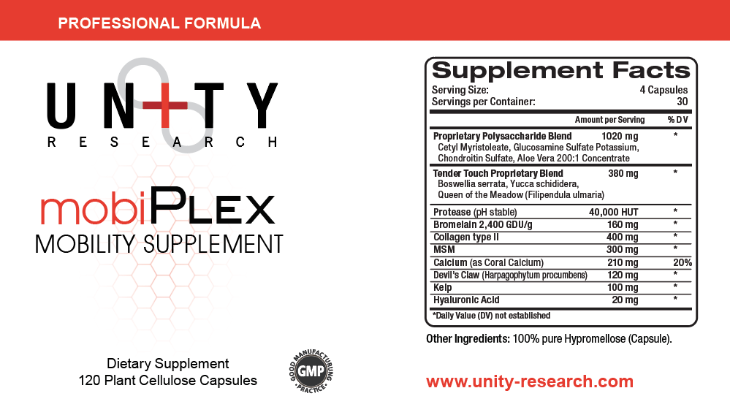 mobiPlex
---
Cutting Edge Mobility Supplement
---
MOBILITY SUPPLEMENT
mobiPlex is a specialized blend of mucopolysaccharides with joint-, bone-, and soft-tissue-targeting ingredients. mobiPlex also contains natural pain relievers for sports or other injuries. Our research shows this to be an efficacious, synergistic formula. Mucopolysaccharides, the main constituent, can be found in many places in nature, including our joins, cartilage, tendons, skin, and cornea.*
Contains the Patented AES Assimilation Enhancing System; Patent #7,235,390. 
Contains three proven painkillers for sports or degenerative injuries
Aids in inflammation, pain and swelling
Soothes joints
Non habit-forming
Good for before and after workouts 
mobiPLEX contains NO artificial ingredients, colors, flavors, additives, gluten, casein, wheat, dairy, soy, corn, nuts, oats, sugar, animal products, preservatives, lubricants, flow agents, SLS, or TiO2, assuring the purity of mobiPlex.
mobiPlex has been clinically researched.

Cetyl Myristoleate: Cetyl Myristoleate has multiple biological properties, including an anti-inflammatory, a pain reliever, as well as an immune system modulator. As supplied, it is a naturally derived, highly purified, and refined waxy ester prepared for oral administration. Because it is an ester form, highly resistant to
oxidation, it has a relatively long life in the body. It is not habit-forming and contains no harsh chemicals or drugs that can cause side effects. It works in a natural manner by acting at the precise location of joint inflammation. Although not as well known as glucosamine and/or chondroitin, there is a growing awareness
that CM8 equals or surpasses them.
Glucosamine Sulfate Potassium: Glucosamine sulfate is a normal glycoaminoglycan in cartilage matrix and synovial fluid. This compound has been amply studied in randomized controlled trials. It is believed that the sulfate moiety provides clinical benefit in the synovial fluid by strengthening cartilage and aiding glycosaminoglycan synthesis. Glucosamine is commonly taken in combination with chondroitin, a glycosaminoglycan derived from articular cartilage.
Chondroitin Sulfate: Chondroitin sulfate is an important structural component of cartilage and provides much of its resistance to compression. Along with glucosamine, chondroitin sulfate has become a widely used dietary supplement for mobility.
Aloe Vera Gel: This Aloe Vera is a pure blend of mucopolysaccharides that not only assists in joint health, skin health, and collagen production but also boosts immunity.
Collagen Type II: Type II collagen forms fibers. This fibrillar network of collagen allows cartilage to entrap the proteoglycan aggregate as well as provide tensile strength to the tissue.
Bromelain: Bromelain works by blocking some pro-inflammatory metabolites that accelerate and worsen the inflammatory process. It is an anti-inflammatory agent, and also aids in healing.
Hyaluronic acid: Hyaluronic acid (also called Hyaluronan) is a component of connective tissue whose function is to cushion and lubricate. Hyaluronan occurs throughout the body in abundant amounts in places such as joints, heart valves and eyes. Hyaluronic acid abnormalities are a common thread in connective tissue disorders.
MSM: A natural source of sulfur.
Coral Calcium: Helps regulate blood pressure, excitability of nerves, contractibility of muscles and heart. Helps control blood clotting and required for absorption of B12. Aids in manufacture of acetylcholine, which helps transmit nerve impulses. Provides energy, and structures RNA and DNA proteins.
Kelp: A rich source of approximately 30 major nutrients, especially B vitamins, iodine, minerals, and trace elements. Beneficial to the brain tissue, membranes surrounding the brain, thyroid, sensory nerves, spinal cord, nails, and blood vessels. Helps regulate metabolism.
Devil's Claw: Devil's Claw has anti-inflammatory properties and can mitigate pain.
Protease: Breaks down protein.
Boswellia Serrata: This plant has been used for hundreds of years in India and has been well clinically studied for its use for joints.
Yucca Schidigera: Yucca is commonly used, and it has been studied for its benefits for the musculoskeletal system.
Queen of the Meadow: Among other uses, Queen of the Meadow has anti-inflammatory qualities that help to soothe and reduce inflammation.

Recommended serving size: 4 capsules in the morning and 4 capsules in the evening. One bottle contains 120 plant cellulose capsules (30 servings).