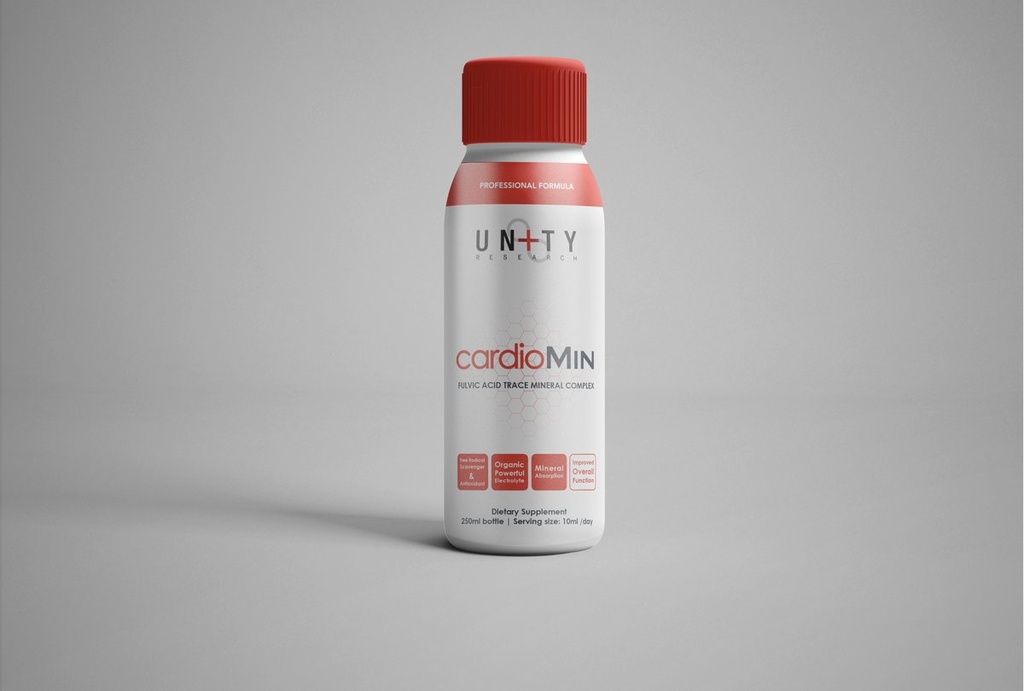 FULVIC ACID TRACE MINERAL COMPLEX
cardioMin is specifically formulated to aid in supporting cardiovascular health, including normalizing inflammation and lipid profile markers.
It contains a 100% natural trace mineral blend that includes fulvic acids which naturally regulates inflammation and detoxifies cells. The compounds come from a 10,000 year old source of fermented plants that have not yet bonded with carbon atoms to form humic shale.
Initial studies on this product showed amazing results on cardio markers.
A Free Radical Scavenger and an Antioxidant*
Powerful Organic Electrolyte Properties*
An Aid in Increasing Nutrient Assimilation*
An Aid in the Elimination of Harmful Toxins*
Mineral Absorption*
Improved Overall Function*

10,000 years ago a fertile valley lay in peace near the shores of a great inland sea in what is now Southern Utah. Suddenly a great volcano poured fire and ash over the entire Midwestern United States creating an earthquake rating over a 7.8 on the Richter scale. The ash from the volcano buried the fertile valley in over 2 meters of ash and created a rift in the mountain range draining most of the great inland sea into the pacific ocean.
Over time the remains of this salty sea became known as the great Salt Lake in what is now Salt Lake City, Utah. The fertile valley, however, was lost.
In 1864 gold prospectors digging through the ash in southern Utah discovered a black flaky deposit of what they thought might be coal, however it did not burn like coal and was again, forgotten and regarded as of no value.
in 1941, a farmer using this black deposit on his crops had a record harvest with no disease in his plants and using no pesticides. Chemical and Mineral tests were performed and to the amazement of scientists, this black powder contained over 72 trace minerals, 12 amino acids and active bacteria. What was actually thought to be dirt, was discovered to be plants, old plants, not bonded with carbon yet. Organic!
cardioMin is a black, ancient plant powder, untainted by man for over 10,000 years, yet not yet fossilized like humic shale or other mineral sources. It is not rock, but plant. Harvested from veins of untouched ancient plant deposits buried by bentonite clay and volcanic ash in the virgin soils of southern Utah, and then leached by a water process to carefully draw out only the minerals.
cardioMin has been tested and found to contain high concentrations of Fulvic Acid (up to 12%), a highly beneficial organic acid used in detoxification of heavy metals and known for its immune boosting properties.
We first believed cardioMin to be highly beneficial for human health for its trace mineral content and fulvic acid detoxification properties. However, in 2006, a Japanese man using our product reported great heart and circulatory benefits only by using cardioMin, so his doctor began a series of case studies to discover what was in the product that was causing such miraculous benefits.
Recommended serving size: 10 ml/day. One bottle contains 300 ml (30 servings) with a dosing cap.